Along with the tighter suspension must go corresponding frame structure enhancement. On a convertible especially, the frame is weakened by not having the hard top to help combat flex. The parts listed here all helped make the car more solid, though the subframe connectors probably accounted for 75% of the improvement.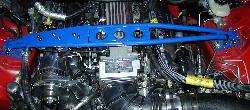 Hotchkis Strut Tower Brace, which installs under the hood, and tightens up the flex in the front end. I had it powdercoated blue, it normally comes in red.
Installation: This is an extremely simple part to install, though some folks have had to move an air conditioning valve on the passenger side (I didn't). While you're at it, remove the extension on your oil fill, or the next time you try to add oil, you'll have to remove the brace! Screw the oil fill cap directly into your valve cover. It looks cool.
---

MAC Subframe Connectors, part 4996, an absolute "must" mod, especially for a convertible. On the 4th generation f-body cars, there is no frame which extends front to back on the car. The unibody in the center is connected to two subframes, at the front and back of the car. The MACs are one of the few subframe connectors that fit on the 4th generation f-body convertibles, though I hear Global West is making some now, as well and Kenny Brown makes a set.
Installation: I had mine welded on at the local Midas shop - they seem to enjoy something different once in a while. They also did a good job on my Borla. At some point, I may get these tack welded along their entire length, for added stability. Currently, they're just welded at the ends (where they're supposed to be). Make sure that while they're being welded, the car is resting on its wheels. You don't want any flex in the body while you're attaching them. Caution: the fuel lines are very close to the front driver's side subframe, and you must be very careful when welding at this point!
---
---
Between the suspension and chassis mods, they've made the car handle like a dream, compared to stock. I've had no handling or quality problems with any of these parts for normal street driving, and the car handles very nicely at the track too.