Rich and Dave Attempt to Purchase an Estate in Dhaka, Bangladesh
November, 1997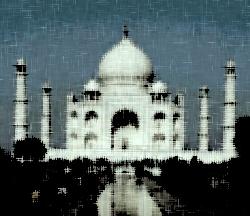 This adventure starts out when someone from Eltek (a large corporation which sells UPS systems, apparently), spams the Internet with the following ad:
-----Original Message-----
From: tst01@eltek.com.sg [SMTP:tst01@eltek.com.sg]
Sent: Friday, November 07, 1997 5:31 PM
To: Friend@public.com
Subject: property in Bangladesh

good opportunity --- property in bangladesh

tel: (0065) 2970493
fax: (0065) 2972625

prime property in dhaka,bangladesh for sale

details of property

1999 sq yds land area having one eight storied building, consisting of fourteen luxuary apartments each of 1550 sq fts area and one three storied bunglow of 7500 sq ft area with all utilities and comfort in prime area in dhaka, bangladesh. completed in the year 1996. state of art design and constructed under the supervision of qualified and prestigous structural engineers, architects and civil engineers.

presently fully rented to head of banks, senior civil servants and top business executives of bangladesh. 100% vacant position if desired by the buyer is possible.

estimated market price tk 120,000,000
total yearly rental taka 3,024,000/-

for further details please e-mail.

details of apartments

3 bedrooms 1 bath room attached to master
bedroom and childs room. 1 bathroom
common for guest room and other bedroom. master bedroom with large
floor to ceiling, teakwood almara.
1 guest room
1 separate- 2 separate doors to drawing and
able dining dining room.
and drawing room
1 maid's room with bathroom
1 kitchen with teak wood cabinets
2 front and back large balconies.
luxurious full white mosaic flooring
imported bathroom tiles and fittings with bathtub.
imported aluminum windows with tinted glass
solid teakwood carved mirror polish doors
all rooms, building, inside and outside distempered.
continous hot and cold water running system
in all the bathrooms and kitchen.
complete consealed imported electric wiring.
consealed imported telephone cabling.
consealed imported pabx and intercom system cabling.
covered car park.
white mosaic stairs with copper tips.
german husanco electronic digital lift.
24 administrative, maintenance and security staff accommodation.
186 kva fg wilson auto start and stop emergency generating set.
each apartment has separated 220 and 440 electric meter.
rcc underground and over head water reservor.
internal rcc 24 ft drive way
18000 kva transformer house.
7500 sq ft bunglow.
presently occupied by the owners. estimated rental value taka 1,500,000/- annually.

ground floor

specious six covered cars parking area.
administrative office block
caretakers accommodation
garden belt 9 ft high brick boundry wall
20 ft x 10 ft high strong victorian design
iron gate with guards room.

second floor

complete imported marble flooring
solid teakwood doors with oriental design hand carving.
2 large and specious drawing rooms with 8 original cristal chandeliers attached to specious varanda.
1 large dining area with large original cristal chandelier.
1 specious guest room with built in floor to ceiling teak cupboard with attached bathroom with italian tiles, american fittings and sanitary wares.
1 specious american kitchen with complete teakwood wall and floor cabinets with white marble top.
1 store room
1 bangladesh kitchen
food washing and cleaning area.
maids room with attached bathroom.

third floor

specious loby and t.v. lounge.
2 specious bedroom with attached specious varanda.
dressing area built in floor to ceiling cabinet and specious bathroom with french tiles, italian fittings, and american sanitary ware.
kingly master bedroom with sitting area, attached bathroom with imported expensive tiles and fittings, bathtub and sanitary ware.
attached two dressing rooms with ceiling high
teak wood cupboard.
large and specious varanda.
overhead and underground water reservor.
all rooms, building, inside and outside distempered.
continous hot and cold water running system in all the bathrooms and kitchen.
complete consealed imported electric wiring.
consealed imported dish antenna and satellite system cabling.
consealed imported telephone cabling.
consealed imported pabx and intercom system cabling.

roof top

4 servant quarters.
---
I am very exited. tell me - can I keep pigs in the building? if I purchase - I would like to move my family and small pig farm immediately to the top floor. we lived in a top floor apt. in Zurich and it is really the best. We did not have our pigs there, the Swiss - and I'm sure you know exactly what I am talking about - would not allow us to raise our pigs on Sternen Str. We had to make frequent and painful journeys to the country to visit farm animals. We also had a top floor flat while in New York City - and again, no pigs. In short, I am a person who does not like the sewage of my neighbors running down my walls.
More questions - in my excitement over this opportunity, I have many questions that are not at all organized. Are any of the occupants highly paid data processing professionals? In our building in Zurich, we had a professor of Computer Science at ETH, a Japanese banker learning Swiss banking techniques and a small family of circus midgets. We like very much to live around professionals, and if I own the building I'd like to consider turning it into a high technology showplace. I know how to do this and will explain once I see detailed blueprints of the wiring, water delivery and removal systems. I'm sure everyone in the building would like to have 10BaseT at 10 Mbs operating in their own domicile. It's really a hot topic at the water coolers when they go off to work. I would put a fileserver on the roof and we could communicate using Email. None of that opening the window and yelling at the people about the cabbage they are cooking, we will use the tools of the future - today. We will, of course, only support the Internet Protocol stack. No Banyan or Novell - this will be a building of the 21st century.
Is there a hair salon and dry cleaners in the immediate area? Very important. My wife has big hair and it needs daily attention. Do you have a photo you could forward? Ideally, I'd like a photo of the apartments and possibly one photo from a height of no less than 1,322 meters. If you place a person who is exactly 1.3 meters tall on the roof of the building, in the prone position - and you let me know the approximate longitude/latitude and time of day - I can, using the advanced mathematics of my computer determine the exact height from which the photo was taken. Don't try and trick me with a photo, from say, 1254 meters - I will know and it would not be a good way to start our business arrangements.
Is there ample public transportation nearby? We do not drive - having never learned - and would like to know about bus/cab/subway availability. Six of our more manageable pigs have been trained to pull a small, brightly painted cart. The scenes painted on the side of the cart are taken from Swiss life and are very gay. The pigs pull us to a local bus stop from which we can transverse the entire planet, if so desired.
In your note, you mention the rooms have been "distempered". I am so happy to hear that. We had a dog that had this terrible and debilitating disease while in New York - having got it from the pound on Long Island - and this dog, let me tell you right now - was not a sane and sensible animal. It was - in a manner of speaking - crazy. It's only use was to frighten the panhandlers away and to defecate in the doorways of the local shops that had treated me poorly. I would not want the rooms of my flat to contract distemper - it would be similar to living in the house featured in the famous American film "The Amittyvile Horror". Excellent film, which I'm sure you've seen many times. The only improvment would be been to get John Wayne for the lead. "Duke" would have kicked those evil spirits right back where they came from.
I'd like to see the 186 KVA generator made bigger. I can easily consume almost that much power by myself when I have all my devices online and operational. Is their space for two? Do they autostart? Is there battery backup? Do you have an Environmental Protection Agency there? I'm hoping you reply in the negative and we can exlore using nuclear power for the building. It's clean and cheap and is the way to go into the new century.
I noticed there were lots of imported materials used in the consturction. Could you provide specifics of where they were imported from?
Does the 9 foot brick wall have glass shards embedded in the top? I require a very secure environment and the glass sparkling in the light of full moon is so beautiful.
again - I await your reply. I am going to call my travel agent in the morning and start pricing a visit. I am, as always, very excited - this opportunity is too good to pass up.
thank you very much - we shall grow rich together....Richard
---
Richard,
I am very much looking forward to this enterprise. I do have several concerns, which I would like to get solutions for, before we schedule our Bangladesh visit. As your fincancial advisor, I would like to caution you, that I have seen questionable dealings before in some countries, and we should definitely visit soon, to verify how many stories are actually in these buildings (all buildings, totalled), and if adequate power will be available soon. Nuclear generators cannot be imported easily, you know!
1) Can we also get a city map of Dhaka? I would like to see what utility services might be available to the site. Are you knowledgeable of the laws in Bangladesh regarding underground digging? We may need to tunnel to several "locations" nearby.
2) Are we able to trade American dollars for the "taka"? If not, is it possible to barter? We have many goods available. Richard, as you know, we have over 500,000 pairs of Nike Air Jordans in a warehouse, possibly enough to outfit all basketball players in Bangladesh! I would like to trade these for this property.
3) We will need a source of boats, rafts and clean water. I am worried about the rumors of floods in the area. Are these true, or are we watching these on American-devil television? I would feel safe with at least one boat on each roof, for emergency.
4) We would like to keep the professionals in the building. Can you send them our interests, and have them write letters of employment reference? We want very much to make them happy, and must speak directly to them about the pigs and the tennis shoes. We will have events for the enjoyment of the citizens of our new estate, to keep them happy as well. "Love Boat" and "Kareoke" nights are a weekly passtime here in the new world, and we will bring our culture to your town, too. You should see the pigs!!! Ha Ha Ha! you will say.
Richard, I will copy Tom on this message, as he will be able to analyze more clearly the surrounding area. His expertise in foreign lands is not insignificant. I am fully prepared to move on the finances for this property, once these details have been resolved. I look forward to doing business with you.
David
---
David,
I am so glad - joy is running amok in my body at this very instant. My blood vessels are sticking out of my head and are easily visible. I will stick my head up to the monitor, perhaps you can see them bulging from my forehead. Do they stick out of your monitor?
Bringing Tom on board is a superb idea, his analysis nailed that deal for us in Greece. He is a crisp thinker and we are fortunate he loves Air Jordans (the currency of East LA...Ha, Ha, Ha). Tom, could you please look into what the average foot size of the male is in Bangladesh? As David, the ever shrewd businessman has pointed out, if we could cut a deal on the Air Jordan's we clearly have a win/win situation. I have a question for our Bangladesh hosts - is there a form of native dancing in your country? Would you like in on the Air Jordan deal? My thinking, in this agitated and excited state is as follows:
1. Tom finds out the average foot size of the male foot in Bangladesh. We move shoes in +2/-2 sizes from to Dhaka.
2. David and I investigate native dances in the country, and cleverly insert ourselves into whatever social clubs exist to suppot the already mentioned native dancing. We are, of course, wearing our Air Jordans.
3. Our host trains us to say "It's the shoes that makes us move like the wind and water" in the native dialect.
4. The native dancers note our fluid movement and we exclaim the phrase above - and a market is born.
5. We sell many, many pairs of Air Jordans to the dancers.
6. We all smile all the way to the bank.
But wait. Daivd and Tom - Our kind and courteous host has never seen us glide across a dance floor, seductively moving our hips to the beat. It has been described by others as "more beautiful than when a swan mates". I assure you, this will sell Air Jordans. It has put locals into buying frenzies in many cities here on the West Coast of America and one rather ugly incident in Greece (however, even here, in a sea of Air Jordan crazy Greeks - we sold appoximately 320,000 pairs of shoes in a three hour period).
I would not worry too much about floods. Remember, my friend, we will be on the 8th floor and should be safe. If the rushing waters reach up that high to snatch us from the clutches of Mother Earth - we !!!wait - my German Shepard, Simon, is barking at something outside!!! I must investigate!!!
It is ok. It was simply a homeless beggar. I had my security guard chase him off. I was hoping for some action tonight. I am, as always, ready for action. I wish I could put up a 9 foot wall here in California. It is, of course, not allowed. I would like a moat filled with gasoline to surround the building in Dhaka - or maybe two moats - the outer one filled with man eating alligators, and the inner one of gasoline. That should keep even Rambo out. I must ask our host a most serious question - Have you had any trained personnel attempt to attack the building? How far did they get? Are the security personnel trained in judo? Karate? or maybe Tai Wan Kai Doo? I myself am a Tai Wan Kai Doo 10th level black belt and can - using only my hands - slice and dice an opponent in less than 2 minutes and 37 seconds. I will, at this time, offer my services to train the building personnel in Tai Wan Kai Doo, transforming each of them into a killing machine that must - upon completion of my 6 week training program - be reported and registered with Interpol. Tom - you are close to Hollywood, could you please call Sly and Arnold and ask them if they are available for such a penetration exercise? We need to know where we stand with these security personnel as soon as possible. We must ask the security personnel to write a short essay titled "Float like a butterfly, sting like a bee" immediately. 400 words or less, typed, double spaced. I can ask my friends in the black house to analyze the essay and produce a psychological grid on these people. We might want to require the same of the lower three floors - they are, in a pinch, the buffer between us and bedlam.
David - I propose the following schedule of social events for those living in our building:
Sunday - Dragnet (establish order)
Monday - Love Boat (already mentioned). Captain Stuebing will be in charge - and what a great leader he is.
Tuesday - I Love Lucy (a hit in any culture). As you and Tom know, I visited the Vatican in 1978 and had an audience with the Pope. We watched three episodes of "I Love Lucy" and I must say, I thought he would bust a gut he was laughing so hard. I think it is what eventually took his life, those old Lucy shows. He would sit there in his beautiful robes and do Ricky imitations with air bongo drums yelling "Baba Lou, Baba Lou". He had a couple of Bishops playing Ethel and Fred - it was quite a scene.
Wednesday - free night. The residents are encouraged to "Think Globally, Act Locally" - or whatever that saying is.
Thursday - Karaoke. This will be fun. We can bring Tanaka-san into this deal if needed - or maybe get KS Lee to come up from Penang and lend a hand. They go crazy when that Karaoke machine starts up. I'm not concerned about limiting the players yet - I'm sure there is more than enough Taka to go around and make us all richer than we already are. Ha. Ha. Ha.
Friday - Free night. I do hope we can get Indian movies on the TV. I watched them earlier this year in Manila and they are so fantastic. Man has babe, sing, sing, dance, man dumps babe for more beautiful babe, sing, sing, dance, 1st babe lures man back with dance, song, dance. Man and babe dance off into dry ice fog. Fantastic.
Saturday - Bingo. This will be a big hit. We could have neighborhood bingo - I'll bring my stereo over and mount the 28 inch speakers on the corners of the building, It will be fantastic.
David - don't worry about what to trade for the taka. When they see those Air Jordans, it'll be the usual "Give me all your Taka and I'll lay a pair of these fantastic sneakers on you" scene. Remember the incident in Greece. This time, let's make sure we have adequte police protection in place before the shoes make their appearance. Tom, can you handle the security arrangements for us? Usual cut.
as always, waiting to make our next million - Richard
---
Richard, Gregory,
Holy smoke, this is looking promising! I am only concerned that our friends at Eltek in Sinapore haven't responded to our queries. I wonder if we should schedule our visit to Singapore instead, though I would prefer to see the site at Dhaka.
I have been reading the local Dhaka newspapers, and have seen much reporting of strife, robberies, and generally mayhem. We may have troubles getting the sneakers shipped in a timely fashion, heretofore I have copied Gregory from El Salvador, who has much experience with inconvenient deliveries of products. Gregory, perhaps you may comment on the logistics of such a delivery, remember this is possibly up to 500,000 pairs of Nike Air Jordans. Since we don't know what size yet, you should assume size 12 regular. Thomas has contacted me, and states that he has taken a small statistical sample (much less than 1% of the population of Bangladesh) of the native people, for this measurement.
Yes, Richard, I remember well the incident in Greece. Ha Ha Ha! That will remind me that I still need to renew my Visa to Greece, as I never found it after that long night on the boat to Tivoli. Love Boat, for sure! Tanaka-san sang Sinatra tunes all night, man does he have a voice for singing! We will have to travel from Dhaka to the bungalow on Crete for weekends. Do you know how far it is? "Danke Shoen....danke shoen" oh do I love that tune.
But back to the subject of the estate in Dhaka. I am generally concerned about the mayhem, especially the uprising in Pabna, where 100 citizens were injured. We should prepare for these events, and tennis shoes will not be enough. Another wall, or a moat as you suggest, will be required. We cannot expect the aliens to rescue us this time. The comet has gone, and we missed that yellow bus. Those bastards - I'll never get over that one. But this time, we will be prepared. The nuclear plant will definitely be required (Gregory, can you lift a nuclear power plant of mass 23 tonnes on your helicopter?), as energy is the source of all power. Leave the email and webtv connections behind for the second flight - we must have power first. Can Eltek provide a UPS sufficient to back up this nuclear plant? We cannot have the miscreants able to shut us down again.
Richard, have you determined the flight schedule to Dhaka? I am anxious to leave, and have boarded my animals for the next two weeks. It is not appropriate to bring them on the first visit to our guests. I have notified the banks to prepare for any financial conversions at a moments notice, though, as we are planning, we expect to trade the shoes.
David
---
David,
I have us booked on UA flt 1 - LA to HK, then a Dragon Air flt into Dhaka, the date of travel is Nov. 25 - due to time changes and time of flights - we arrive in Dhaka on Nov. 27 at approximately 1am. I could not get first class on the UA leg as it was booked. I had Ms. Shirley book us in Business Class. Mr. Tst01 - could you arrange pick up for us? and please book a hotel room for us? Do you celebrate Thanksgiving there? Should we bring our own turkey? I think the answer must be yes. Mr. Tst01 - Please let us know the availablity of the following: turkey, cranberries and yams. Is there a market there for such things? We must ask Thomas to do some market research on this, he can work it into the shoe size assignment he already has.
David - are you sure it is wise to invite Gregory into this deal? I do not think he is a stable individual - however, with his desire to maim and kill humans it would appear Dhaka would be an ideal spot. I read the papers as well and am somewhat worried about the introduction of Air Jordans into this environment. This could, my wise and wealthy friend with the car that goes faster than water buffalo turd down the Ganges, easily upset the natural order.
Again, a question for our host. Is it possible to identify the snatchers on sight? My reasoning is as follows - we start selling Air Jordans. If the Hawkers purchase them all is well. If the snatchers and/or miscreants buy our shoes - would they not then be fully capable of outrunning the mobs who chase them down and beat them to death? Would this introduction of an unstable element, in what appears to be an orderly society possibly change the order that exists? (illustration: snatchers stabs businessman, hawkers observe this and start chasing snatchers, hawkers catch snatcher and beat them to death).
Thomas/David - I have been studying my globe and have an observation that makes moving on this property even more immediate than previously thought. Mr. Tst01 - I am sharing this with you in the strictest confidence. If I get evidence that this has leaked out, Gregory will be notified - and I assure you, when he shows up on your welcome mat with his Black and Decker cordless drill in hand - well, enough said. This most amazing peice of news has me terribly excited. What do we know is going on with the planet Earth? Think "Plate Tectonics" - get my "drift"? Ha Ha Ha. Look at the map, when the plate with India/Bangladesh breaks loose it will drift South East. Using my computer, I have calculated it will drift thru the Flores and Banda Sea just north of Australia. It will then drift across the Pacific, following a North East tack and my friends - remember, keep this quiet - it will bump right into California. Remembering that we will own an 8 story delux apartment building in this drifting land mass that has just joined California. Our building will have become beach property and it will be worth probably $100,329, 245,164.32 - and that ain't Taka baby!! This is beautiful American green. Thomas - more opportunity for you. You will not have to export Air Jordans! Why bother, these lovely native people (formerly of Bangladesh) will now be Americans - free to roam our beautiful country and purchase big aumotmobiles from Mr Cal Worthington. Thomas/David - please move and immediately purchase all the big used cars for sale in California/Arizona and Nevada. It's calling cornering the market. Gregory, you will be able to charge your Black and Decker cordless drill without using a convertor when our property bumps into California. Gregory, I think we must contact legal advice as soon as possible concerning that grand jury indictment. I'm sure we need to clean this up before you come back to the US of A. David, Thomas and I would not care to visit you in prison.
David, I have calculated the almost exact spot Bangladesh will impact Calif. and it is within 4 miles of our warehouse in Long Beach! Are we lucky! Yes, Yes, Yes.
So - in ending, Mr Tst01 - please arrangment pickup and hotel for us in "Danke Shoen....danke shoen" oh do I love that tune.
---
I have taken the liberty of having an inspection of the previously mentioned property in "taka". It is exceptionally clean and I believe meets all our technical requirements, which I will list shortly.
As you know I am currently unable to return to the US because of the situation that has caused much grief to our Cuban friend, but let me assure you that this type of action will not occur again. I have eliminated the source of our concern. Rest assured that my hiring practices have been cleansed and reviewed. All memorandum of our previous operator should be shredded. Richard, please purge your files and report to the Manou when you have everything from Project Dark Wind wrapped up. Rest assured that I have the best cleanup man working things from this end.
I have picked up some news from our partners in Japan. They report their contractor is near the completion of his assignment. He has spent that last two weeks doing schedule monitoring of his target and has determined that optimum timing for his action that is now scheduled for noon on Friday, Tokyo time. Apparently, this timing is in keeping with his targets proclivity for lunching at particular sushi bar. He has made arrangements to inject an as yet unspecified compound in that day's special. This action will clear the way for our shipments eminent procurement. We are in extreme luck that the financial crisis that is occurring in Japan will make any recovering action almost impossible. I feel extremely optimistic that our other project in this area can be completed with minimum possibility of distraction by any other agents involved.
David, your concern with the local currency devaluations is unjustified. Our contact has enabled a hedge against these fluctuations. The Air Jordan shipment is purchased in US Dollars, so no concern there. It would have been nice to benefit from the devaluation but the operator agreed to a memorandum of understanding weeks ago, before these issues surfaced.
I will be transporting much of this material in a charter on 11/28. As far as transporting the U27 A50 Isis Reactor is concerned - you are aware of the limitation on my heavy lift capabilities. I believe you have over estimated what we can move between continents with my current assortment of movers. We will have to wait for the next Interglac 087A to return to this quadrant for that type of capability. We should be ok on power in Dhaka as we will not need to setup the Proto Communications Array at that location and can find enough power at other location in the country through government installations.
It is extremely lucky that this Dhaka opportunity has presented it's self. I am hopeful that Mr. Tst01 of Eltek Company will contact us soon. Our requirements for storage will be high after the 11/28 shipment is completed. If you review the details of apartments, that Mr. Tst01 so kindly submitted, you will notice the following:
Luxurious full white mosaic flooring - this will be the perfect surface for our setup and for Masonic activities.
Continuous hot and cold water running - obvious advantage after a long stay in an El Salvadorian prison.
The roof top with servant quarters will be perfect for setup of our defenses.
I hope that we can occupy this space ASAP. Please update on any progress with Mr. Tst01. David, can we go directly to Eltek Corp and by pass Mr. Tst01 if he does not respond in a timely manner? My contact in Bangladesh has not been able to contact Mr. Tst01 as of yet but is continuing to attempt contact. He has met one of the several Bankers who currently occupy an appartment and has determined Mr. Tst01 place of employment.
Richard, please take note that when the Air Jordan's are distributed, my associates can monitor the situation and eliminate any trouble that you perceive with snatchers or miscreants. I can assure you that I will personally take great pleasure in making absolute surety of a calm environment underwhich the shoes my be distributed and that my actions and the actions of my associates will in no way disrupt your sales. We have been working with our Cuban friend on our quieting methods and you would not notice anything if you were standing within ten feet of our action. A van will be situated near by to wisk away any problems.
Please keep me updated on the details of any changes in plans. Your associates Gregory.
P.S. Please save some Ginger Bread House for me, after prison food for such a while this will be an extreme treat.
---
Suddenly, the following response comes from Eltek!:
From: ayamana ayamana@eltek.com.sg 19:50
Subject: property in Bangladesh options
To: dmills@unlimited.net
CC: cower@castles.com, cower@sparc1.castles.com, harrison@primenet.com, scoville@fish.hook.net, gjkendall@aol.com

I am responding to your inquiry concerning available property in bangladesh.
The property will not be available for relocation for six months. Your notes indicate the availability must be very very soon. It is felt that this property will not suite your needs.
This property is residential in nature and would not appeal to merchants such as you seem to be. I do however have another property available, which is a warehouse in the dhaka, bangladesh wheel industrial park. We are certain that you may store your shipment of Air Jordans at this location. In addition, this site is very very close to the air freight center of dhaka international airport.
details of warehouse
3500 sq ft area with 25 ft floor to ceiling
well lighted and ventilated
full water and electricity
class A disposable and drainage
large air craft storage type slide away entrance (very discreet)
cement dry smooth surface throughout
estimated market price tk 58,000,000
total yearly rental taka 1,056,100/-

Please be aware that laws of bangladesh are quite strict regarding importers such as yourself. Please contact the Ministry of Clothing Materials before importing all type of garments, including Air Jordans.
It is possible that a very large import tax may be required for entry of these products. I have contacts at the Ministry and would be willing to represent your interests if you so desire.
My family is very very interested in a small sample of the Air Jordans. My son believes that Jordan is most outstanding American basketball player.
If you are interested in pursuing this transaction further please reply email.
Yamana Alwarnie
Eltek Electronics Engineering
Property Disposition Division
tel: (0065) 2970493
fax: (0065) 2972625
---
Mr. Big (Yamana),
Excellent info - but incomplete as usual. What - exactly - are you trying to hide from us? We obviously require a secure place to reside while inserting the Air Jordans into the local economy and I assure you we are not going to live in a warehouse. Mr Tst01 assured us the building was ready for immediate occupation, now you are proposing we live in a warehouse with a cement floor, electricty and something called Class A disposable drainage which concerns me. Is "Class A" something I can sit on to take a crap - or is it a hole in fhe floor with a 400 PSI garden hose hanging on the wall for wiping? Thomas/Gregory - warning: If you run into one of these "facilities" - do not - and I must repeat - do not point that garden hose at your privates and turn it on. That hose will clean you all the way up to your small intestine. You will get launched thru the tin roof and end up in someones garden with your pants around your ankles and your bowels full of water.
Could you send map of the Wheel district? Would it be possible to deal with someone in Bangladesh? Singapore, while lovely is quite a distance away. Maybe we could work out a deal on this Air Jordan for your son thing - I'd like to have some of those big prawns they sell at the Hawker Stands at Newton Circus. I don't know what a pair of Air Jordans goes for there - I'll leave that to you. Please send size/color/style you'd like and suggest an equitable trade for the prawns. Pack them in dry ice - uncooked - and I'm sure they will arrive in good shape. Thomas will handle getting the sneakers to you. Is there a better place to bring our shoes into the region? Maybe KL? Penang? Somewhere in India (?). Thomas, remember that time we brought that IBM 4381 computer into India? and they unloaded it from the plane by stacking bales of hay up, and pushing it to lower layers? Ha Ha Ha. I certainly hope this location our kind and courteous host (who is obviously hiding something) has better facilities for us than this.
We need a location with minimal duty. Why the high duty? Aren't these people aware of what a nice pair of sneakers will do for them?
Is there a ministry for nuclear power? We're excited about bringing our own power source in - I'm sure you noted Gregory picked up on this immediately. Yamana - I must speak to you man to man now - I hope you are a man as I'd look pretty silly talking man to man to woman. But, enough.....Gregory is very unstable. David likes to bring him into these deals as muscle, and while I confess he does an excellent job - he is very dangerous. Please be careful in dealing with him. Should he show up on your welcome mat - my advice is invite him in and act as tho he is an old friend. Do not give even the slightest indication that you are aware that he is a psychological basket case. He will pick up on that very quickly, and like a lion on the hunt he will react. David and I can usually control him, but usually is not always and in those instances we cannot it is ugly. Anyway - onto to happier topics - let's talk Taka.
Suppose we cut you in, and you handle that end for us. What is your Taka take? Would you like a straight salary? or a piece of the action? If we can't find acceptable living arrangements - and it appears we can't - it might be wise for us to let someone handle that end - we stay here and turn Taka into greenbacks and wait for plate tectonic to do their thing. It minimizes the cost. David/Thomas - I'd like you to consider this option. We could, as a precaution, insert Gregory into the local end of things. He could keep an eye on that end of the operation - he needs to get out of El Salvador anyway and can't come here, it should work. He is also not terribly concerned about where he lives and/or craps - and he takes laxitives to ensure he stays regular. A casual observer of this might say he is addicted to the laxitives - but they would never get to say it twice.
Yamana - You appear to know your way around in these various ministries and this could be of great value. Please immediately look for a more friendly place for the Jordans to land. My thinking is if we can find a place to bring them for minimal cost - we can get them to the end point(s) using some of Gregory's talent. Think about this.
David - I have canceled our flights on the 27th. No need to go, if we can't move in why bother going. Here is my suggestion for a plan -
o Mr. Big suggests prawn trade for sneakers.
o Thomas ships sneakers/Big ships prawns.
o We cut Big into deal - Gregory moves to either Singapore or Bangladesh (we keep him close to the sneakers)
o Big sets up location for Air Jordans/Gregory & Big handle local distribution.
o It's Taka time....
and in the background...plate tectonics are bring the action closer to home every day.
Richard

---
Unfortunately, the mail to M. Ayamana bounced, so Rich attempted to contact him through the postmaster, or at least get the postmaster to complete the deal...
From: postmaster@eltek.com.sg [SMTP:postmaster@eltek.com.sg]
Sent: Tuesday, November 25, 1997 8:02 AM
To: cower@sparc1.castles.com
Cc: postmaster@eltek.com.sg
Subject: Delivery failure

Your message has encountered delivery problems to ayamana@eltek.com.sg.

User not known

Your message reads (in part):
[....]
---
Postmaster - we are trying to get mail to Yamana Alwarnie, Eltek Electronics Engineering, Property Disposition Division tel: (0065) 2970493 fax: (0065) 2972625. The address we were given is ayamana [ayamana@eltek.com.sg] - and this address bounces mail. Do you know why? We're trying to cut a deal with Mr. Big (Yamana) that has the potential for making us all a lot of Taka.
Have you been to Las Vegas? I'm thinking of taking up residence there and am soliciting input from many sources.
If you can help - we can request Thomas get you a pair of Air Jordans - please let me know your foot size/style and color and an address to send the sneakers to. We try to please. I'd rather not bring a new person into this complex deal, but a shipment of, say - 3 dozen raw tiger prawns on dry ice - could easily change my mind. Again, this deal can make us all wealthy.
Gregory - please stand by at the airport. Give us your cell number and wait for instructions. Make sure your cordless drill is charged.
thank you...rich
---
Richard and Gregory,
I fear we have exerted undue energy with this Bangladesh plan. The Taka has dropped 80% of value in the last week of negotiations with M. Ayanana, and I fear he has been released from his duties at Eltek, as was M. Tst01. This, while a most unfortunate circumstance, allows me to bring up and alternative plan. You will take note, this is of equal or better opportunity, not in Taka but in "good old american greenback!"
Richard, we should meet on the beach tomorrow night, remember the one in Mendocino county, where you and I met. Actually, I'm sure you don't remember that beach, but let's meet there anyway. This time, bring your thinking cap, because this is big, really BIG!
Gregory, you must get out of that prison. We cannot have you collecting free rents off the Cuban government for much longer. Bring the shoes to the beach, they will not be obtrusive, and we can barter for abalone and margaritas. Stop all shipments and freighter landings in Dhaka, immediately.
You ask, "What are we going to do, tonight, Brain?" Yes, the same thing we do every night...
David
---
Mysterious telegram from Cuba:
Prison break 0400, small aircraft waiting near coast <STOP>
Jordans on there way <STOP>
Yamana & Tst01 terminated <STOP>
Strawberry margaritas please, sick of Cuban Guava <STOP>
---
Gregory,
Excellent! Those miscreants deserved it <STOP>
Negoiate deal with postmaster <STOP>
Get prawns Newton Circus <STOP>
Don't chew gum <STOP>
Send Jordans back <STOP>
Thomas is on way now <STOP>
Meet him at snake temple Penang midnight 12/11 <STOP>
Richard